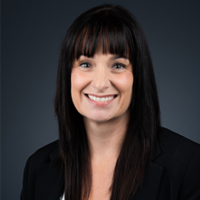 Brandy Giannetta | February 15, 2023
Green hydrogen is a massive enabler of wind and solar in Canada
One of the most exciting things about working in the renewable energy sector is witnessing the dawn of innovative, non-emitting new technologies that promise to power Canada's net-zero future. In 2023, I am particularly excited about green hydrogen and the prospects for onshore wind and solar.
Green hydrogen is a completely clean, non-emitting fuel source from start to finish. Unlike hydrogen made from emitting energy sources, like oil and gas, green hydrogen is produced using wind and solar energy.
When Canada's budding green hydrogen industry starts to bloom, it will require huge amounts of wind and solar supply. In this way, it will be a massive enabler for Canada's wind and solar energy suppliers.
Canada needs green hydrogen to power the path to net-zero
As a clean and scalable solution, green hydrogen is essential to Canada's decarbonization goals.
To get to net-zero, we need to decarbonize sectors that produce the most significant amounts of GHG emissions, such as large industrial processes, freight transportation, and manufacturing.
According to Environment and Climate Change Canada, manufacturing accounts for a third of all facility-reported emissions in the country. It takes a lot of energy to power these processes and it is heavy on carbon emissions as a result.
We know that grid-level electricity will not be enough, on its own, to power these sectors in the net-zero economy. But green hydrogen can be produced at a scale large enough to tackle even the most colossal decarbonization efforts.
In Powering Canada's Journey to Net-Zero: CanREA's 2050 Vision, we point out that Canada is not yet on track to meet its commitment to decarbonize by 2050, and we advocate for governments to develop hydrogen strategies that prioritize green hydrogen.
We know that green hydrogen should play a key role in decarbonizing our economy, because it will provide the cleanest form of energy and at a scale that is required to ensure that Canada reaches net-zero and becomes well positioned to compete in future markets.
It's clear that expanding green hydrogen production is the big push we need to meet our clean energy goals in Canada and abroad and CanREA is prioritizing its advocacy for policies and incentives that promote the adoption of green hydrogen.
Green hydrogen will unlock GWs of opportunities for wind and solar
CanREA's 2050 Vision calls for 5 GW of wind and solar to be built annually until 2050 in order to reach Canada's net-zero targets, knowing that wind and solar are the cleanest, lowest-cost sources of new electricity available today, Canada has significant, untapped onshore wind and solar potential, and our industry is up for the challenge.
And yet, in 2022, Canada installed only 1.8 GW of new wind and solar and the year before, less than 1 GW.
The scale and size of the need for wind and solar energy is unprecedented. Our industries are ready to deliver the gigawatts required to support the energy transition and to power the production of green hydrogen. With the massive, untapped potential of Canada's wind and solar resources, CanREA will continue to advocate for the accelerated deployment of these technologies.
Green hydrogen will help that acceleration.
Wind and solar are essential to green hydrogen production. In order to scale up green hydrogen we will need to scale up wind and solar.
Green hydrogen will inevitably lead to a renewable energy boom in this country. We are talking gigawatts of new opportunities for our industry, creating thousands of jobs in the process – all while kickstarting a new hydrogen economy powered by wind and solar energy.
Green hydrogen export opportunities
Canada's many clean energy advantages offer a strong foundation for green hydrogen growth. Already, the federal government and some provinces have developed hydrogen strategies.
CanREA has aggressively lobbied for additional financial incentives, such as the investment tax credit announced in the 2022 Fall Economic Statement, to accelerate the deployment of wind and solar and to incent investment in green hydrogen production.
There's no question, Canada's emerging green hydrogen economy will mean new economic opportunities—at home and abroad. Clean electricity alone will not be enough to power the full transition to a decarbonized economy. Here at home, the use of green hydrogen to power our hard-to-abate industries and large freight transport networks means we can also avoid costly transmission investments for electricity generation that is better served to power the production of green hydrogen directly.
As we expand our capacity to meet our own net-zero energy transition goals with green hydrogen, we will also be in a strong position to support the goals of other nations, through exports.
Last summer, Canada and Germany signed a hydrogen trade deal, highlighting the lucrative export opportunity that awaits our industry as we expand green hydrogen production.
We must build more stable, predictable investment opportunities like these to optimize the huge, untapped potential of Canada's onshore wind and solar resources today. Our coastal geography and ports provide the advantage for us to build a global export economy for green hydrogen.
As consumer preferences and governmental policies continue to shift toward greener alternatives, Canada is poised to drive sustainable innovation, such as green hydrogen derived from wind and solar, and reap long-term economic benefits.
The green light
The way I see it, the benefits of scaling up green hydrogen production in Canada are threefold: Keeping Canada on track to meet decarbonization goals, expanding domestic market opportunities and establishing a leading export economy. Green hydrogen is clearly a massive enabler for wind and solar, allowing us to reach net-zero and unlock new long-term economic benefits in the process.
In 2023, I am excited to continue leading CanREA's push for comprehensive green hydrogen policies and incentives in key jurisdictions across the country. As the leader of CanREA's Policy Team, I will remain unapologetic about promoting the benefits that Canada's onshore wind and solar potential can provide now to unlock Canada's emerging green hydrogen economy, and vice versa.
It's time to give green hydrogen the green light in Canada!
In 2023, CanREA is running a new monthly blog series. Don't miss a post: Subscribe to our "Power Together" newsletter!