We have no time to waste
Climate change is the biggest threat facing humanity. Canada has made commitments to reduce its GHG emissions by 40-45% from 2005 levels by 2030 and to achieve net-zero GHG emissions by 2050. But Canada has only succeeded in stabilizing GHG emissions, not in reducing them. Indeed, Canada's 2019 GHG emissions were only one percent below 2005 levels.
"Powering Canada's Journey to Net-Zero: CanREA's 2050 Vision" explains why Canada needs a powerful boost from wind energy, solar energy and energy-storage technologies as we set out on a transformative journey to reach net-zero GHG emissions by 2050.
Canada must decarbonize electricity production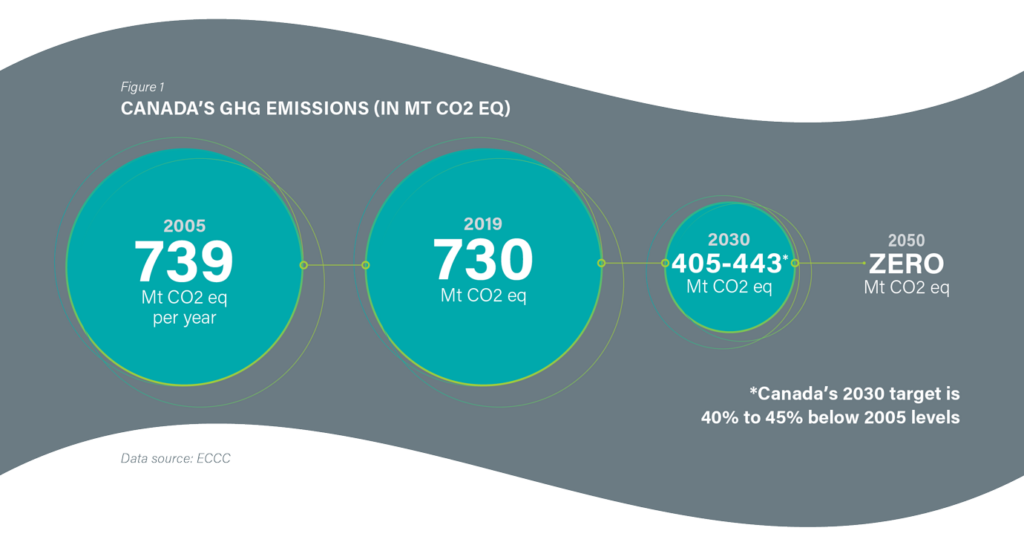 Canada must move to a net-zero electricity grid by 2035 to reach net-zero GHG emissions across the economy by 2050. While this country's electricity production is already 80% non-GHG emitting, we are not currently on a path to decarbonize our grid by even 2050.
Canada must expand electricity production to support electrification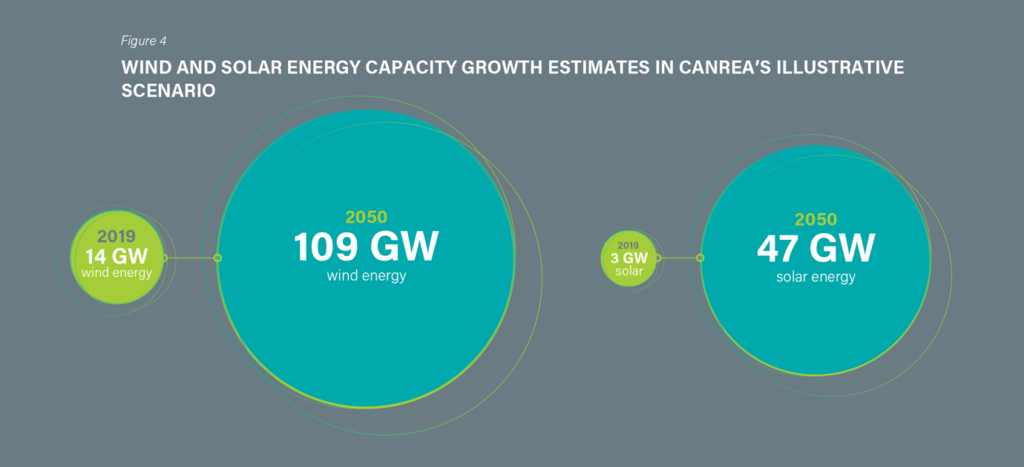 Many studies show that Canada will need to double electricity production to achieve net-zero GHG emissions by 2050. Decarbonized electricity represents the most cost-effective way to reduce GHG emissions in many applications within transportation, buildings, and industry. Decarbonized electricity can also produce green hydrogen, which is expected to become a cost-effective solution in some applications where electrification is more challenging.
Canada must choose the lowest-cost pathways to net-zero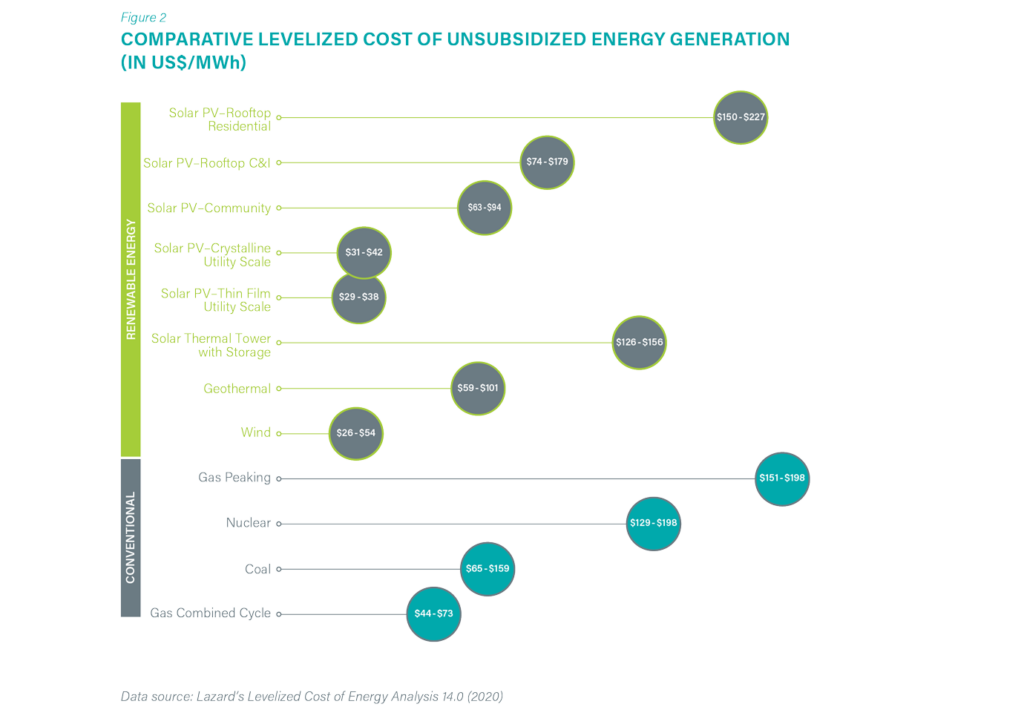 To maintain the competitiveness of Canadian industry and to protect low-income Canadians, it is critical to minimize the costs associated with decarbonizing and expanding Canada's electricity production. As the lowest-cost sources of new electricity generation available today and through 2050, wind energy and solar energy will play a central role on any pathway to net-zero. Cost, as well as benefit for the electricity system, must be the key considerations in determining which technologies should partner with wind, solar and energy storage on the path to net-zero.
Canada must invest in new wind energy, solar energy and energy storage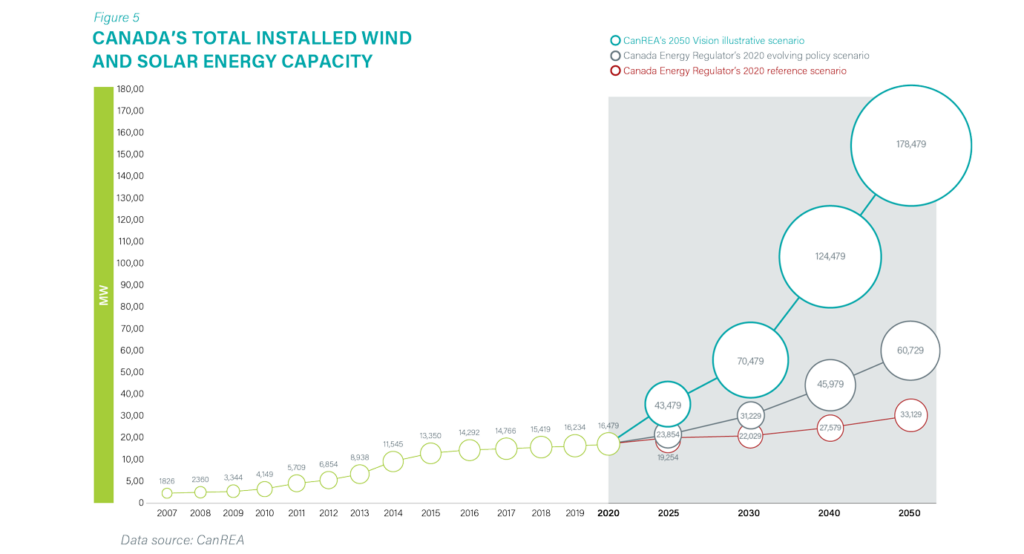 Informed by a growing body of research, CanREA's 2050 Vision presents an illustrative, but realistic, scenario where Canada builds 3,800 MW of new wind-energy capacity and 1,600 MW of new solar-energy capacity, on average, annually, over the next 29 years. This will result in an almost ten-fold expansion of Canada's capacity. The scale and speed of this deployment is unprecedented. 
Canada must get on track for net-zero.
Currently, Canada is not deploying these technologies at anywhere near the pace required. Consider these three sobering statistics:
New wind and solar energy capacity built in Canada over the last five years was just 3,129 MW, nowhere near the 27,000 MW needed under our illustrative scenario.
The most wind and solar energy capacity ever built in Canada over a five-year period was just 9,200 MW (2011-15).
The new wind and solar energy capacity build envisaged by the Canada Energy Regulator's evolving policy scenario (2020) is only 7,375 MW per five-year period, on average, for the next 30 years.
This has to change, urgently. To power Canada's journey to net-zero, we must take immediate action and rapidly accelerate the construction of new wind, solar and energy-storage facilities across the country.
To that end, CanREA's 2050 Vision outlines 5 key tasks and 15 immediate actions required from governments, utilities, system operators and regulators. See "Canada's to-do list".
These urgent actions will help Canada reach its net-zero goals at the lowest cost, and in the most reliable, responsible and sustainable manner, providing the greatest possible benefits for all Canadians.