Industry movers and shakers flocked to the inaugural Electricity Transformation Canada conference, held in Toronto Nov. 17 to 19, to strategize on shifting Canada toward a greener grid by 2050.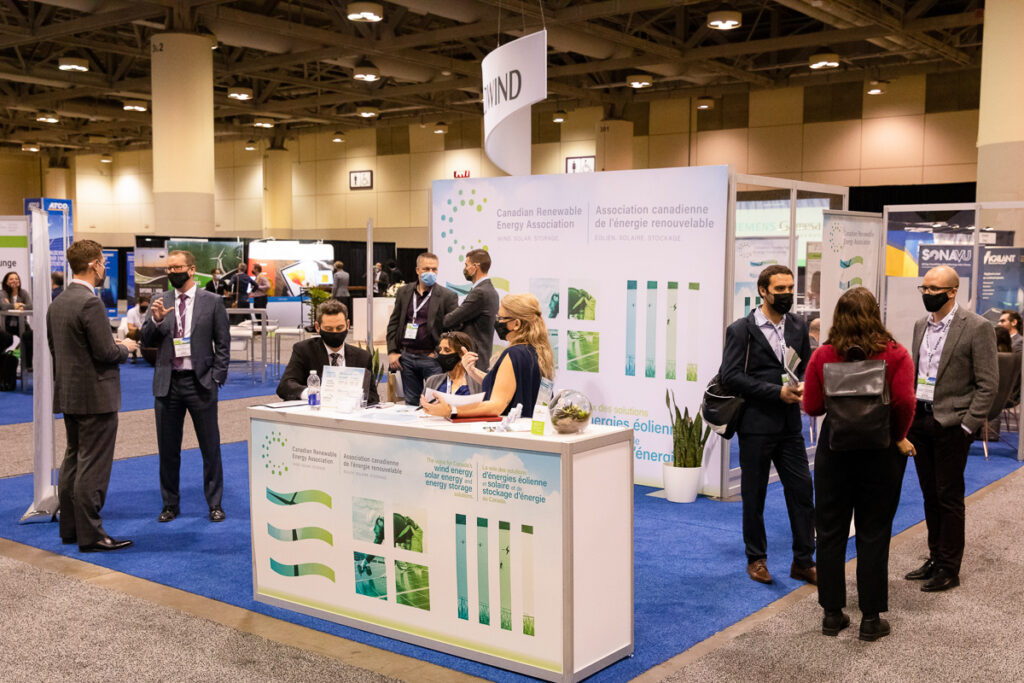 Nearly 1,150 participants gathered in person at the Metro Toronto Convention Centre from November 17 to 19 for the first-ever Electricity Transformation Canada (ETC), this country's leading renewable energy conference.
The event featured three days of welcome networking opportunities and educational sessions, covering everything from Indigenous energy partnerships to green hydrogen and the launch of CanREA's 2050 Vision. Please view our photo album, below, to see only a few of the many highlights from this year's ETC.
CanREA issues an urgent call to action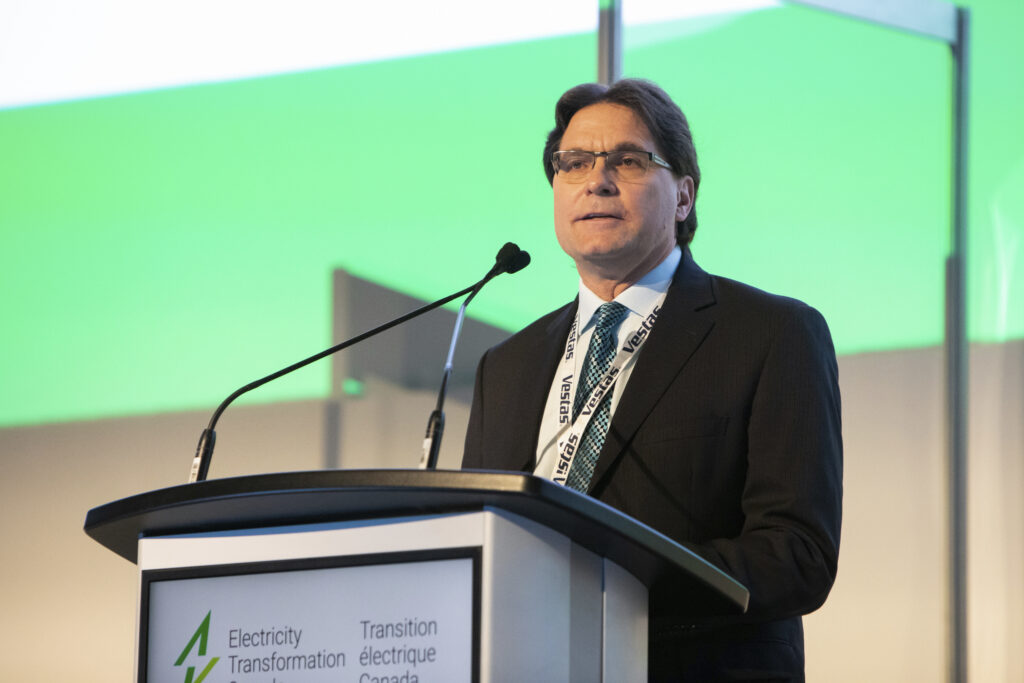 "Getting to net-zero by 2050 will require Canada to build out wind energy, solar energy and energy storage at an unprecedented scale and speed," said Canadian Renewable Energy Association (CanREA) President and CEO Robert Hornung (pictured above) during the opening session, as CanREA unveiled its 2050 Vision to a receptive crowd.
CanREA's 2050 Vision is a call to action, urging stakeholders to work together on a tenfold expansion of wind and solar energy across the country over the next 29 years.
In the association's ambitious, but realistic scenario, 3,800 megawatts of wind energy and 1,600 megawatts of solar energy would be built out every year, from now until 2050. That's three times faster than Canada's biggest five-year period to date, illustrating how quickly the industry must pivot.
"Our industries are up for the challenge, and ready to play a critical role," said Hornung. "We need to act now and we need to act together. We have no time to waste"
For more information on the Vision, and what CanREA proposes as Canada's To-Do List, visit this webpage.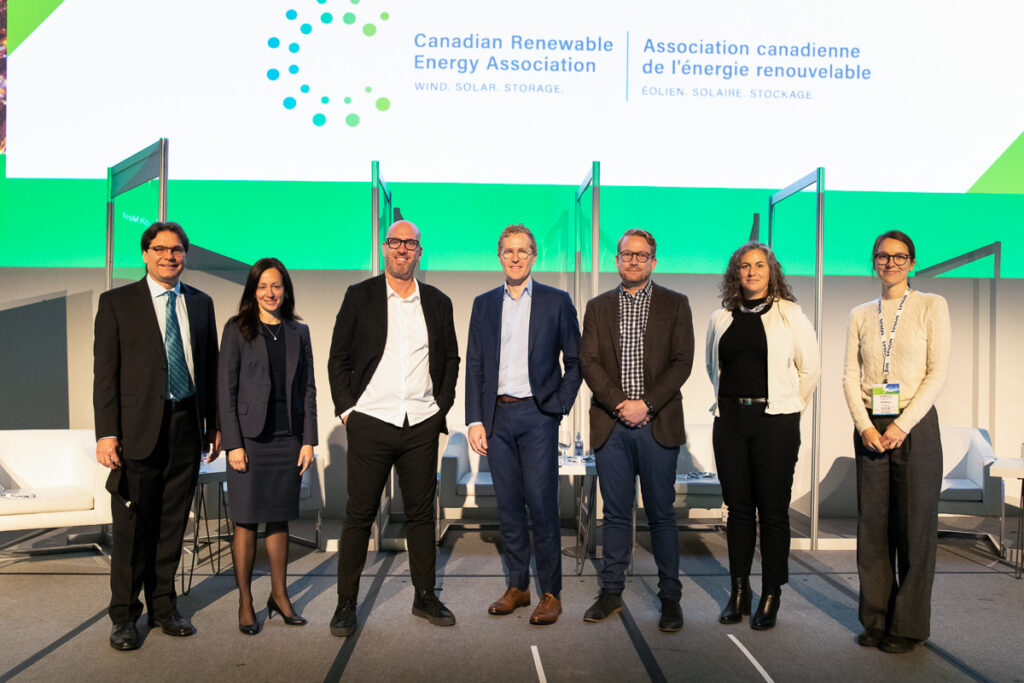 Following Hornung's remarks, representatives of diverse sectors echoed CanREA's call for greater innovation and collaboration to transform the country's energy grid.
From left to right: Robert Hornung, CanREA President and CEO; Michelle Chislett, CanREA Board Chair and Managing Director of Canada and U.S. Development at Northland Power; Dan Balaban, CEO of Greengate Power; Brendan Costigan, Director of Power & Utilities Investment Banking at National Bank of Canada; Patrick Taylor, Principal Program Manager at Microsoft; Tonja Leach, Executive Director at QUEST; Isabelle Turcotte, Director of Federal Policy at Pembina Institute.
A video of the Vision launch event is available on CanREa's YouTube channel, here.
The road to net zero by 2050: Opportunities for electrification in Canada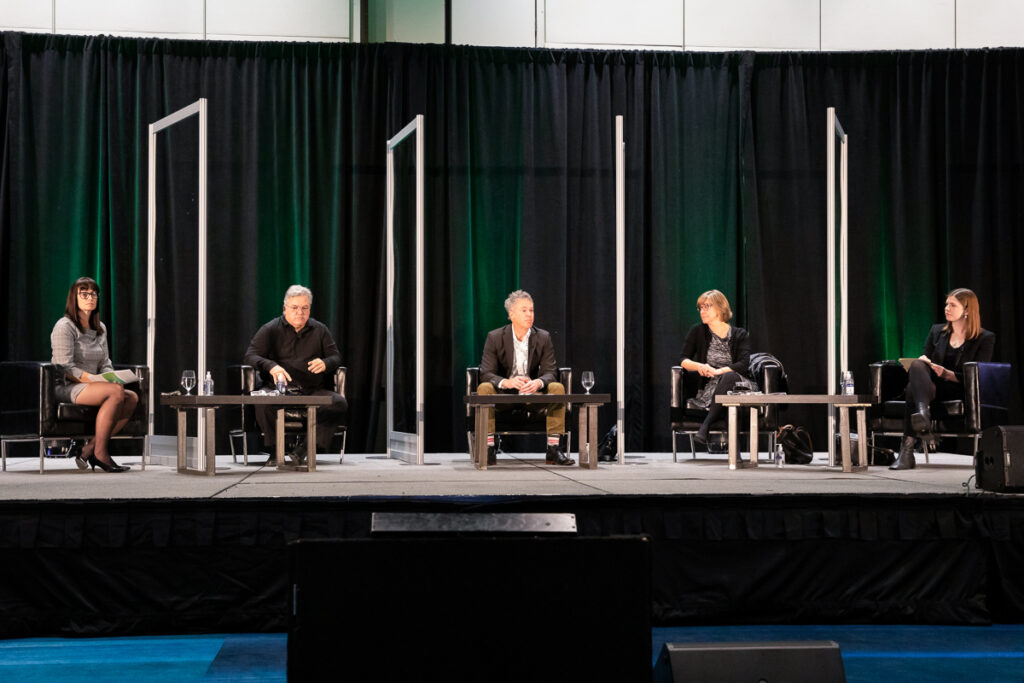 With hard work, Canada's net-zero target is within reach, said Anna Kanduth, research associate with the Canadian Institute for Climate Choices, during a session about opportunities for electrification on Nov. 17. "Net-zero is achievable for Canada by 2050," Kanduth (far right) said.
From left to right: CanREA VP of Policy, Regulatory and Government Affairs Brandy Giannetta; Daniel Breton, President and CEO of Electric Mobility Canada; Mark Zacharias, Special Advisor at Clean Energy Canada; Catherine Cobden, President and CEO of Canadian Steel Producers Association; Anna Kanduth, Research Associate at the Canadian Institute for Climate Choices.
A visit from Ontario's Minister of Energy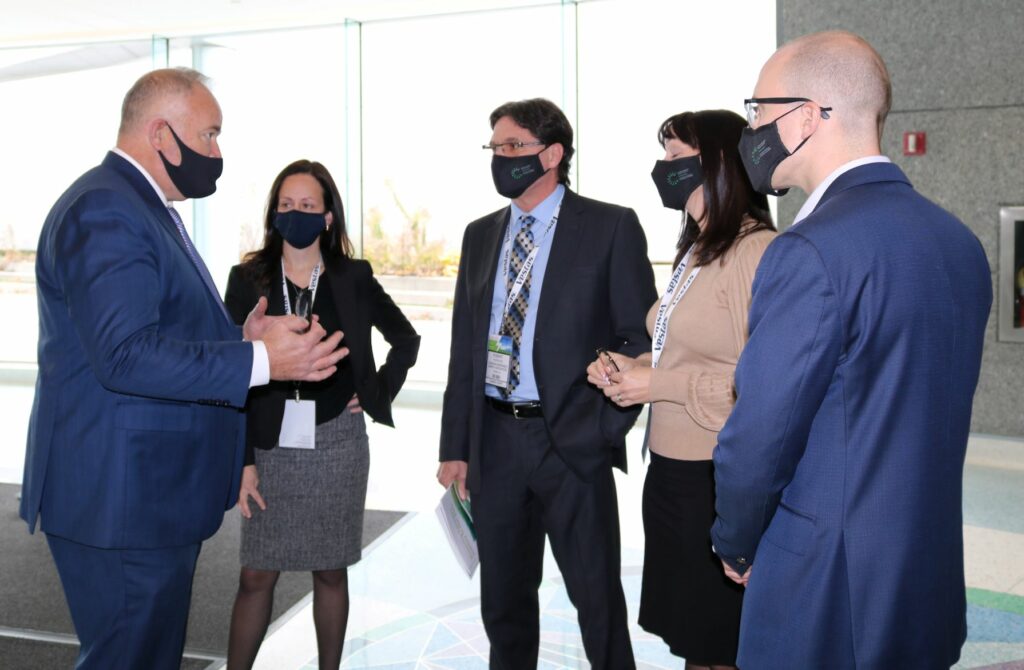 On Nov. 18, CanREA staff and board members welcomed Ontario Minister of Energy Todd Smith to ETC and spoke with him about the critical role wind energy, solar energy and energy storage must play if Canada is to pursue lowest-cost pathways to net-zero greenhouse gas emissions by 2050. From left to right: Ontario Minister of Energy Todd Smith; CanREA Board Chair Michelle Chislett; President and CEO Robert Hornung; Vice-President of Policy, Regulatory and Government Affairs Brandy Giannetta; and DER Director Nicholas Gall.
100% Clean Electricity by 2035: The Clean Power Pathways project preview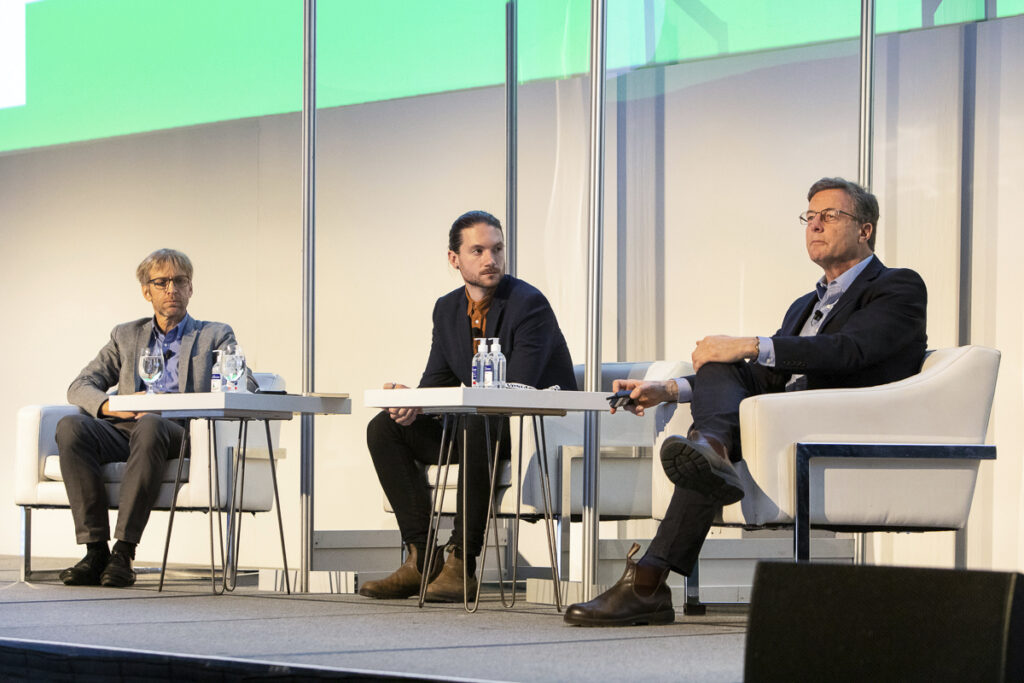 On Nov. 18, policy experts Tom Green (left) and Stephen Thomas (centre) from the David Suzuki Foundation presented a preview of the Clean Power Pathways final report, alongside collaborator Prof. Mark Jaccard of Simon Fraser University (right). The report explores policy solutions at municipal, provincial and national levels to achieve 100 per cent clean electricity across Canada by 2035, with important roles for solar, wind and energy storage solutions.
The future of market-based renewables: Lessons learned from Alberta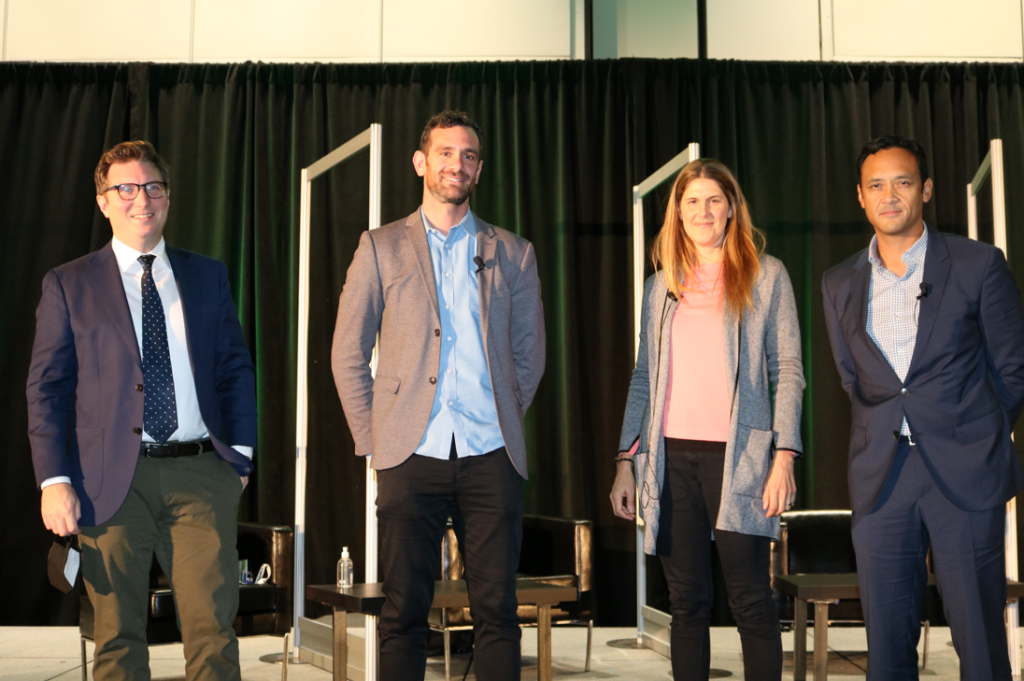 In 2021, over 1,200 MW of new wind and solar energy projects have been announced in Alberta, which will result in billions of dollars of investments. That momentum could move the nation as a whole toward greener grids, said industry leaders in the province's market.
"Alberta has seen a remarkable burst of growth in renewable energy projects," said Associate Minister of Natural Gas and Electricity Dale Nally in a video message during this session on Alberta's unique deregulated system.
From left to right: CanREA Senior Director for Western Canada Evan Wilson; Jordan Balaban, President of Greengate Power; Roslyn McMann, Director of Market Development at BluEarth Renewables; Jason Chee-Aloy, Managing Director at Power Advisory.
Check-in with CanREA's policy team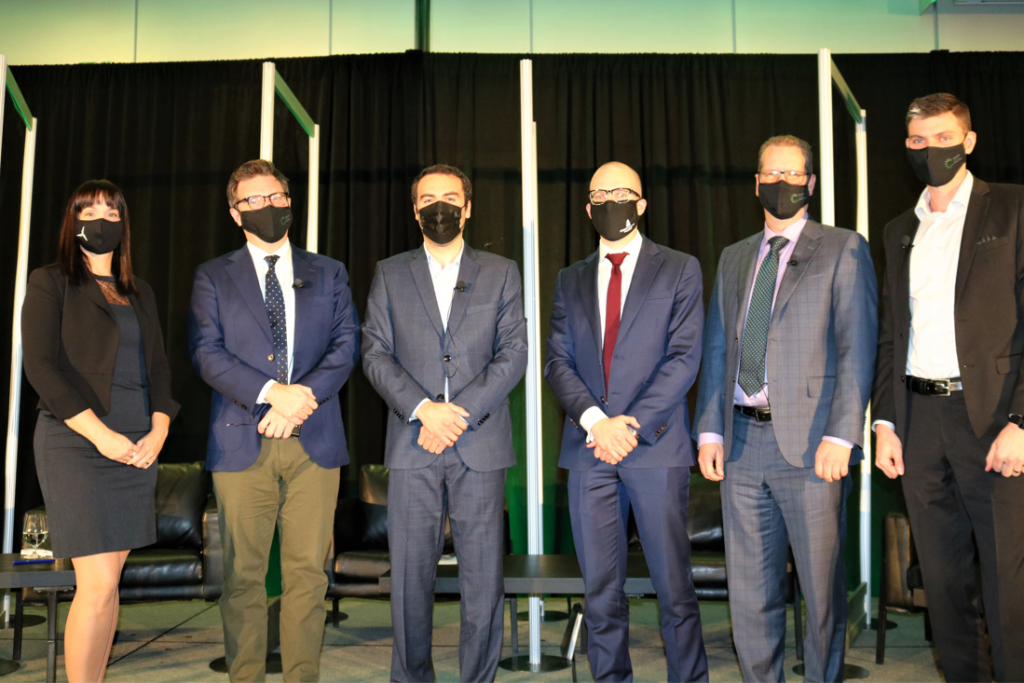 On the final day of ETC, CanREA staff from across the country offered attendees a glimpse into the association's past, present and future work – from policy challenges to provincial market differences and the DER landscape.
"We need to decarbonize the grid, and we need to do it now," said Brandy Giannetta, Vice-President of Policy, Regulatory and Government Affairs (far left).
The session also included insights from Senior Director for Western Canada Evan Wilson (second from left), Director for Quebec and Atlantic Canada Jean Habel (centre left), DER Director Nicholas Gall (centre right), Energy Storage Director Leonard Olien (second from right), and Senior Director of Operations Phil McKay (far right).
Taking advantage of the tradeshow floor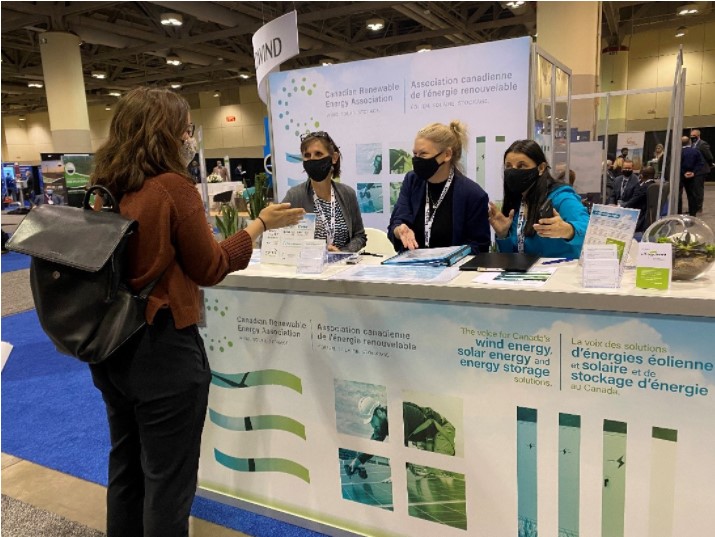 Over the three days of the conference, attendees networked with exhibitors, sponsors and CanREA members at 100 exhibitor booths on the tradeshow floor, a much-appreciated opportunity after missing out on industry conferences during the pandemic. At the CanREA booth (pictured above), staff also offered education sessions covering provincial markets, operations, renewable energy tech and, of course, our many membership perks.
What are electricity system decision makers doing today to prepare Ontario for the electricity system of 2050?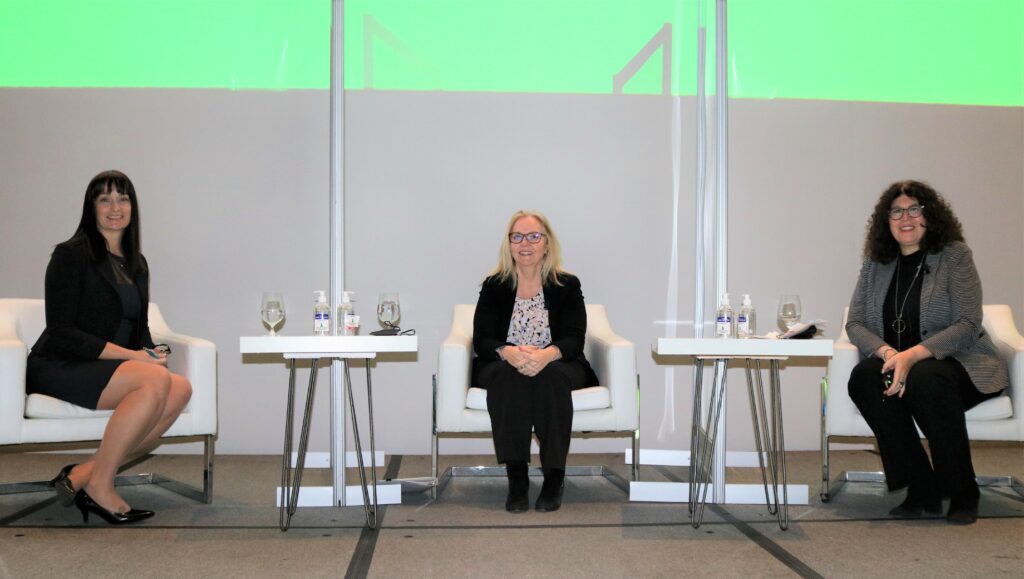 The closing plenary luncheon, moderated by Brandy Giannetta, examined how major electricity system stakeholders in Ontario are preparing to meet Canada's net-zero goals by 2050.
"The system we all depend on must be able to respond to the increasing demand for electricity," said Independent Electricity System Operator President and CEO Lesley Gallinger (centre). "There's a lot to be done."
From left to right: CanREA VP of Policy, Regulatory and Government Affairs Brandy Giannetta; Lesley Gallinger, President and CEO of IESO; Teresa Sarkesian, President and CEO of Electricity Distributors Association.
See you next year!
Next year's ETC conference will be on Oct. 26-28, 2022, in Toronto. We hope to see you there! To stay informed, subscribe to our Watt's On events enewsletter and visit our Upcoming Events webpage.