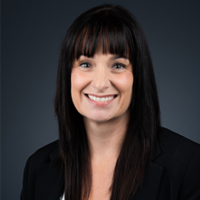 Brandy Giannetta | April 29, 2020
The wind energy industry is demonstrating its long-standing commitment to supporting local communities in Ontario during COVID-19
Over the past several weeks, it's been heartening to hear about acts of kindness and support from friends and strangers for those in need during this time of uncertainty in our own communities and beyond. It's clear that even though we're staying apart, people are coming together, collaborating and presenting solutions.
Every day, I hear of new examples of companies stepping up in local communities to help in the fight against COVID-19. The wind energy industry is no exception and there are many innovative and collaborative efforts worth noting. Wind energy companies with operations in Ontario have been involved in supporting efforts to retool facilities to begin making personal protective equipment (PPE) and wind farm operators have donated available PPE to local hospitals. Several member companies of the Canadian Wind Energy Association (CanWEA) have kicked off initiatives supporting local food banks, seniors and mental health programs to ensure their communities are supported and protected. Many have contributed to efforts for hand sanitization, food security, and PPE in developing countries as well.
The wind industry was quick to coordinate and share information and best practices to ensure it continues to safely operate essential facilities to keep the lights on. This has led to new protocols for distancing while completing operations and maintenance and virtual site visits are becoming more widely used. As an essential service, we've been on regular calls with government, system operators and other industry partners to ensure the health and safety of communities and employees.
Seeing global news stories of temporary improvements in air quality and reduced greenhouse gas emissions resulting from the pandemic, have only highlighted the importance of climate action. That's why our team is still hard at work (albeit from home) on supporting in-progress renewable energy projects throughout Canada, and pressing ahead with our Vision for a non-emitting grid by 2050. Additionally, we're monitoring impacts to the Canadian wind energy industry and to global supply chains.
CanWEA has also been collaborating with clean energy leaders to bring forward economic stimulus ideas to government for now, and in a post-pandemic world. In fact, we were a signatory to an open letter presenting a workable plan to Ottawa to get Canadians working in the near-term, while creating a diversified, low-carbon economy. We continue to meet with government officials to bring ideas to the table.
These are certainly unprecedented times, but ideas, innovation and collaboration have and will continue to make a difference. Stay safe and healthy.