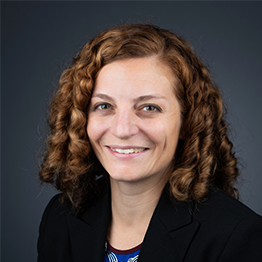 By Vittoria Bellissimo, President and CEO Canadian Renewable Energy Association
January 13, 2023
CanREA's new President and CEO reflects on 2022 and charts a course for 2023.
The start of this new year finds me two months into my role leading CanREA. My tenure is recent enough that I still see the organization through fresh eyes, but enough time has passed that I can also look back at CanREA's recent successes. In this blog post, I want to celebrate some of the top highlights from 2022 and share a sneak preview of what CanREA will tackle in 2023, and beyond.
First off, I would like to thank the industry for the warm welcome I received this fall. Whether at CanREA's 2022 Electricity Transformation Canada conference in Toronto, at our November networking events in cities across the country, in private meetings, or by correspondence, your positive energy (pun intended!) has been most appreciated.
Secondly, I cannot say enough about the determination, work ethic and commitment of the CanREA team. It has been a very busy few months and I am constantly impressed with how the team manages critical priorities, supports each other and responds to the needs of members.
I particularly want to congratulate our policy team, who worked tirelessly to deliver on key priorities this fall.
Key accomplishments in Fall 2022
For instance, CanREA was very pleased to see our recommendations included in the Fall Economic Statement, announced on November 3, 2022. Of note, the Federal Government stated its commitment to refundable investment tax credits for wind, solar and energy-storage technologies, as well as green hydrogen investments that will bolster the competitiveness of Canada's renewable-energy industry. Our policy team and Federal Caucus were very clear that there is a need for a Canadian response to the Inflation Reduction Act passed in the United States, and with this new Federal commitment, we are set up for success.
I also want to stress the launch of the CanREA Electricity Transition Hub, supported by nearly $1.6 million in funding from Natural Resources Canada, which NRCan announced at the Electricity Transformation Canada conference on October 28. The Hub is a knowledge-transfer tool, helping electricity utilities and system operators accelerate their decarbonization efforts. It will equip participants to integrate the larger amounts of wind energy, solar energy and energy storage needed to support electrification and Canada's net-zero GHG-emission targets.
Outlook for 2023
In this new year, I am looking forward to tackling several key policy priorities at CanREA. Our new year's outlook includes – but is not limited to – the following projects:
In both Ontario and Saskatchewan, we are advocating for transparent and stable procurement schedules for renewables and energy storage. Our industries can deliver affordable electricity to ratepayers—and if they know what is required, they can manage their supply chains and better plan for upcoming project proposals.
In several jurisdictions across the country, we are actively looking at Corporate Power Purchase Agreements (PPAs). Alberta has been the poster child for Corporate PPA success to date, but other provinces can enable Corporate PPAs as well. Customers should have the ability to buy clean, renewable electricity in the jurisdiction in which they operate.
We are also looking at workforce development in the renewable and energy storage industries, with more to come on this important project in 2023.
We will keep working with our members and partners to support an energy storage tariff that works in Alberta. As we work towards a net-zero electricity grid in Alberta, we need to be open for business regarding all forms of energy storage.
In the longer term, CanREA will look at supporting green hydrogen and the decarbonization pathways that it enables.

As I kick off the new year at CanREA, one thing is very clear to me: this work matters. The work we all do is vital to decarbonizing electricity and several other industries, which is key to achieving Canada's net-zero objectives.
It is a privilege to work in this sector at this transformative time. Everyone on the CanREA team knows this as well. I want to thank you all for the support I, and CanREA, have received to date, and thank you in advance for the support we will continue to need going forward as we work on these critical projects together.
Happy new year!
In 2023, CanREA is running a new monthly blog series. Don't miss a post: Subscribe to our "Power Together" newsletter!